Mercedes-Benz Car Key Replacement DY Locksmith Charlotte NC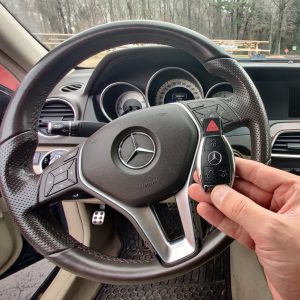 We take a lot of pride in the diversity we offer regarding our Mercedes-Benz Locksmith services.
If you owned Mercedes-Benz vehicle DY Locksmith is here for you! services include:
Lock / Ignition Installation and Repair : Your door / trunk vehicle locks is the first line of defense when it comes to protecting your Mercedes-Benz. DY Locksmith are experienced with any Mercedes-Benz locks and ignition (EZS/EIS) Lock is broken? need Re-Keying the vehicle lock? Key turn the ignition but car doesn't start?  WE CAN HELP!
Door / trunk locks Opening Mercedes – Benz : When you locked yourself out of your Mercedes-Benz, our trustworthy crew will open your vehicle  and minimize your inconvenience. We are fully trained with many years of experience with Mercedes-Benz security system and using the best tools in the world to bypass the security system and unlock the car door / trunk safety.
Spare Keys Mercedes – Benz : If you only have one key for your Mercedes-Benz, we are able to create a spare key fob for you to use in case of an emergency or when you lose your primary key. Many people has only one key to their Mercedes-Benz and when the key fob get damaged or all keys lost you can't use your vehicle! in most cases you far from home and be stuck with no key to your car! keep in mind is always cheaper to copy duplicates an extra key fob replacement for Mercedes-Benz when you have a working key.
Mercedes-Benz ALL KEYS LOST situation : When you lose your Mercedes-Benz keys and you DON'T have a spare key we are able to create a new Mercedes-Benz key fob replacement on spot! That's mean we able come out to where is the car located in Charlotte NC and surrounding area, We can pick the door and create smart key fob replacement cut and programming on spot!
blade flip Mercedes-Benz key, Fobik remote key fob and Proximity push to start Mercedes-Benz key fob. So no need to tow your vehicle to us, and no need to tow the car to Mercedes-Benz dealership! Call us and we will get you back to the road no time!
* your Mercedes-Benz key stopped working and lost programming? we can Re-Programming your key again! so before we cut and programmed new key we will check your bad key, maybe it can be Re-programmed again!
Common Questions about Mercedes Benz Key Replacement service:
Where i can get a Mercedes Benz car key fob replacement cut and programming in Charlotte NC and the surrounding area? – Here at DY Locksmith we are a fully Mobile and  Local locksmith company service and you have the option to come to us or we can come out to you and create a Mercedes Benz key fob replacement on spot!
Do you copy / duplicate Mercedes Benz key fob replacement? – Yes! We copy / duplicate any type of Mercedes Benz key fob replacement.
Can you program reprogram Mercedes Benz smart key , flip key and transponder chip key? – Yes! DY Locksmith can program any type of Mercedes Benz key style as a transponder chip keys , smart key push to start proximity key , remote head keys fobik keys.
Mercedes Benz lost key situation – Can you create any  Mercedes Benz key replacement if i lost my only main car key and don't have a spare? – Yes! We come out to the car location anywhere in Charlotte NC and the surrounding area and create a new car key for your  Mercedes Benz if all keys are lost ! We are full mobile locksmith local in Charlotte NC and we served all surrounding areas near me.
How much a Mercedes Benz key cost? – Mercedes Benz key replacement can be very expensive! Mercedes Benz keys at the dealership could be more than $500.00 and sometimes much more! Depending on the type of the key and vehicle , Auto Locksmith for Mercedes Benz would be cheaper ! always keep in mind when you have a main working key its always cheaper to get a copy! have only one key? call us and we will get you a spare no time!
Note: Very important to know the Mercedes-Benz security system are one of the most secured in the world! We use the BEST gears and tools for luxury high end vehicles, So before you hire a locksmith service when you lost all keys or when you need a spare key fob replacement duplicated is very important to hire a professional locksmith who has many years of experience with making a Mercedes-Benz key fob! Unexperienced locksmith can damage the car system and it will be very expensive to fix! Choose right! Choose a Professional! Choose us!
You asked yourself why choosing DY Locksmith ?
We are family owned and operated local and mobile Locksmith service in Charlotte NC and the metropolitan area , You always know when you hire a local Locksmith business we will always be there for you! With any Locksmiths issues anywhere in Charlotte NC and surrounding areas and anytime!
DY Locksmith are fully licensed and insured business ! 15 states required locksmith licensing and North Carolina is one of them and we are fully licensed approved by The North Carolina Licensing Board , DY Locksmith also a proud members of The North Carolina Locksmith's Association !
DY Locksmith Charlotte NC the most trusted Best Local and Mobile Locksmith A+ Top Rated Accredited Business at The BBB (Better Business Bureau)
Worked around my schedule to get to my house when I got home from work. Showed up when he said he would and did an excellent job. Fair price, fast service!
Michelle Culpepper
2023-07-27
Great job and very kind person
Courtney Holder
2023-05-04
Lock was broken on my BMW and couldn't get in. AAA failed. Mechanic failed. Called David based on the reviews and he did not disappoint. He was fast, reliable, and communicative.
Alisse Harkins
2023-03-08
Was able to come out next day for me and was so quick to get the job done. Even was able to work around another contractor I had in the house. Great experience!
Can't speak highly enough about
Mercedes-Benz Vehicles list are covered by DY Locksmith Charlotte NC :
Mercedes-Benz models 190 / 200 / 220 / 250 / 300 / 320 / 350 / 420 / 500 / 550 / 600 / 43 / 63 / 65 / series / A Class / C Class / E Class / G class / M Class / ML / R Class / S Class / SL Series / SLK / Sprinter / Metris / GLA / GLE / GLC / GLS / GLB / CLA / CLS / GT-Class / SLC / AMG Series /
Best Automotive Locksmith Services for Mercedes Benz Vehicles in Charlotte NC and Surrounding Area including Huntersville NC, Concord NC, Harrisburg NC, Matthews NC, Indian Trail NC, Waxhaw NC, Weddington NC, Belmont NC, Pineville NC, Fort Mill SC, Rock Hill SC, Tega Cay SC, York SC, Clover SC